Božidar Širola started working in the Department of Folk Music in the Ethnographic Museum, as a curator and the head of the Department, in 1921. His work was voluntary in the beginning, then he was taken on as a research assistant and soon after as a part-time manager (Goglia 1939:25); finally, he was full-time employed as a musicologist with the Department of Folk Music, only to be appointed director of the Museum – on two different occasions (1934-35 and 1941-45). In the meantime (1935) he was appointed the director of the State Academy of Music in Zagreb (see: manuscripts by Mirjana Randić for the text "Phonograph in Musicological Research of the Ethnographic Museum in Zagreb", published in an abridged version (Randić Barlek 1997)). He was the first Croatian ethnomusicologist to obtain a doctor's degree in 1921 on the subject of "Das istrische Volkslied" ("Istrian Folk Songs") at the Music Institute of the University in Vienna (Goglia, 1939:4).

As the head of the Department of Folk Music, Božidar Širola researched and analysed gathered materials placing a particular emphasis on practical and concrete aspects of music creation, such as the making of instruments, their reconstruction and recording melodies. He used to interpret them within the framework of the then predominant cultural-historical paradigm, supplying the theoretical background and guidelines for research in a part of the study "Melographic Methods" (Širola and Gavazzi 1931b). Alongside his colleague Milovan Gavazzi, he was engaged in phonogramic recording in the Museum and in the field, transcribing the recorded materials and music notation of ceremonial chants. He also organized phonographic archives which contain collected recordings of folk music (Goglia 1939:25).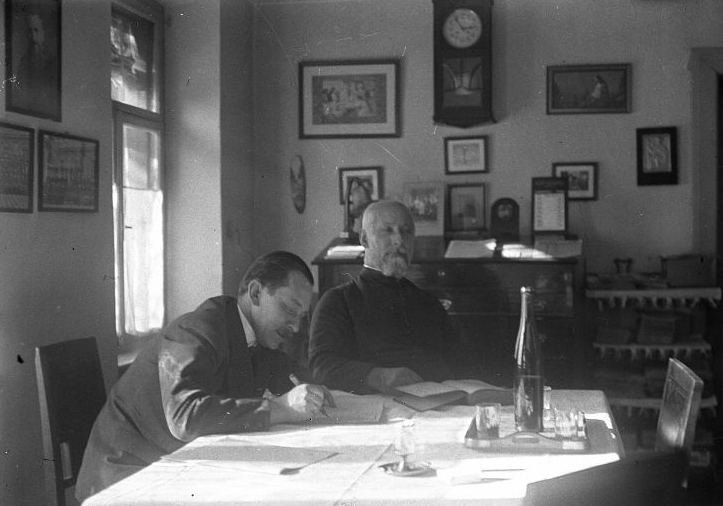 Božidar Širola in the field, interview with Tomo Severović (Križevci), photograph Vladimir Tkalčić, 21 Feb 1932 / N-2148, Photodocumentation of the Ethnographic museum

The first recordings of folk singers were made in the Ethnographic Museum and in Markuševac in Zagreb, in February 1923 by Milovan Gavazzi (Širola and Gavazzi 1931c:30). Phonographic recording in the field in a systematic manner was first started in 1924 by Gavazzi and Žganec in the villages of Međimurje: Kotoriba, Donja Dubrava, Podturen, Dekanovac and Vratišinec. A year later Širola and Gavazzi headed for Pokuplje. In 1926 recording was carried on in the area around Zagreb: Turopolje, Samobor and Borčec, after which Širola went to the Dioceses of Krk and Senj to study Old Slavic chorale. In 1927 Širola and Gavazzi recorded materials on the island of Korčula and in Krapinske Toplice, in 1928 on the island of Rab and in Novi Vinodolski and in 1929 in Virovska Drenovica, Koprivnički Ivanec as well as Veliki Bukovac and the island of Pag.
In the first ten years of its work – by the end of 1929, the phonogramic collection in the Department of Folk Music was increased to 120, wherein each phonogram contained several songs (usually three or four) (Širola and Gavazzi 1931c; Randić Barlek 1997:67). Field recording continued up to 1931 in different areas of Croatia as well as in the Museum (Širola and Gavazzi 1931c; see: manuscripts by Mirjana Randić for the text "Phonograph in Musicological Research of the Ethnographic Museum in Zagreb", published in an abridged version (Randić Barlek 1997)).

During the course of his field research Širola collected artefacts for the Ethnographic Museum and over 400 items were added to the Collection of musical instruments.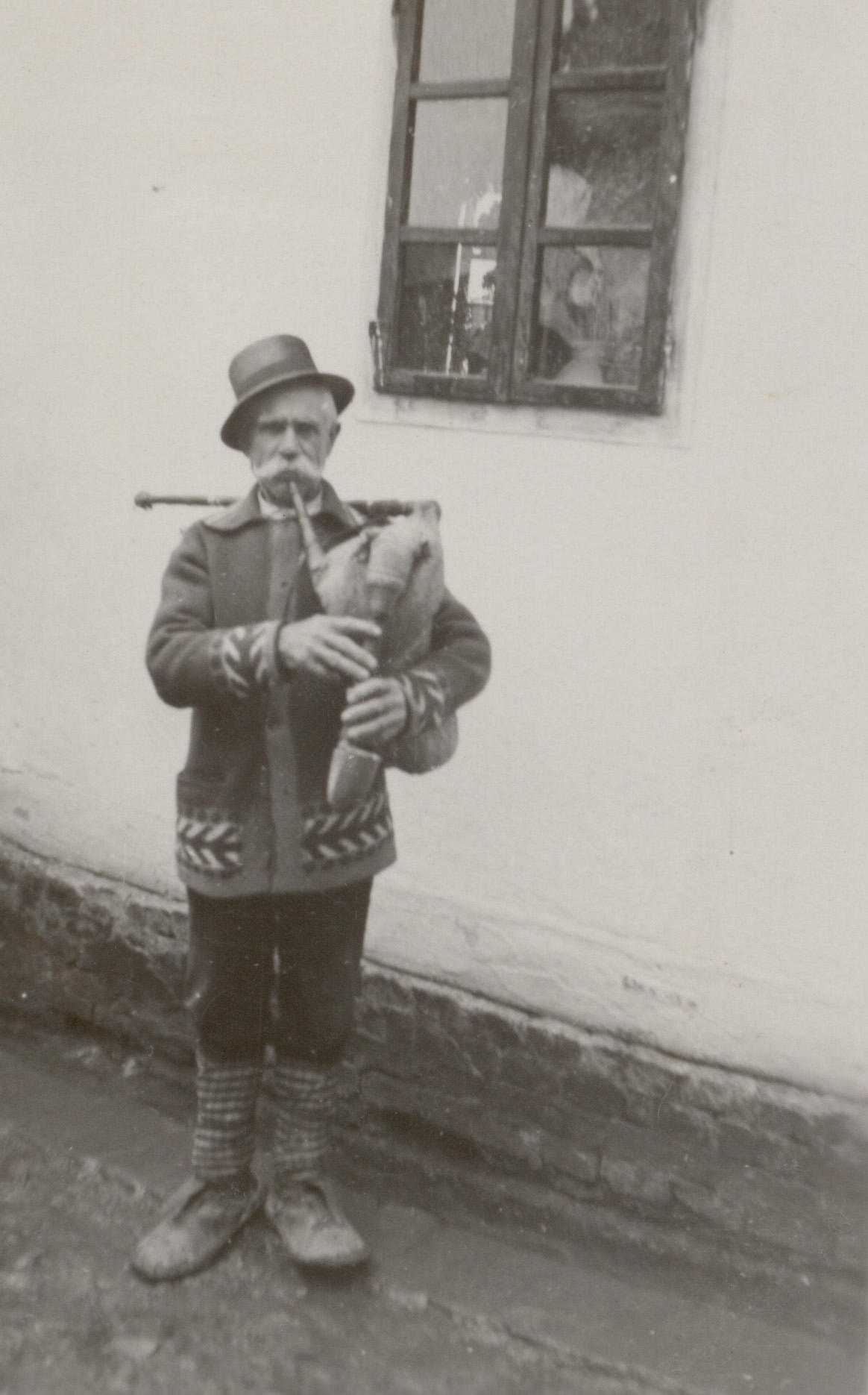 Gajdaš Ilija Sočković stoji i svira za fonogram pred svojom kućom. Na sebi ima uske hlače, reklu, obojke i opanke te na glavi šešir (Perkovci, Vrpolje); snimio: Božidar Širola, svibanj 1933. / N-2169, Foto-dokumentacija Etnografskog muzeja

Another valuable contribution to Croatian ethnomusicology is Širola's ethno-organological research, i.e. studies on traditional musical instruments.

His study "Reed-pipes" (1937) contains all the aspects of ethnomusicology of the time as well as that developed later – for Širola did not focus exclusively on the instrument and music rendered but also on musicians and occasions on which particular music was played. Based on the musical instruments that he collected for the Collection of the Ethnographic Museum, he wrote a series of articles and books on the very making of instruments, which offer a great insight into intangible cultural heritage i. e. traditional knowledge and skills of making musical instruments. On the basis of his notes one can reconstruct the musical instruments and use them for educational purposes, for example, for music workshops wherein the attendees could learn to play or make an instrument.

In his preface to manuscript "The Single Flute - Jedinka" – prepared for publication but in fact never published, Božidar Širola states: "This is a school of flute called jedinka published in the hope of merely perfecting our craftsmen's technique of making this particular type of flute (for ex. žveglice in Bistrički Laz), so as to enable local production and sales apart from the sales of the imported German flutes (called Blockflote); this would in turn provide our youth associations and other folk music enthusiasts with good and valuable musical instruments for their pleasure as well as for the benefit of the development of Croatian national music (Širola manuscript).

Širola was also a mathematics and physics teacher, which was clearly reflected in his very meticulous and precise drawings of musical instruments. Those drawings are of essential importance today since, at the time of Širola's inventory and collecting activities, photographic camera was not used very often in the Museum.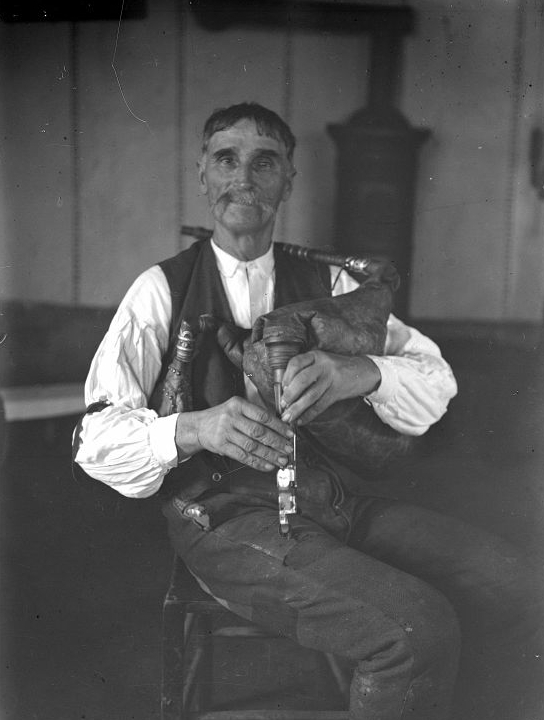 Filip Vlahović with the bagpipe / Hrgovljani, photograph Vladimir Tkalčić, 1932 / N-2430, Photodocumentation of the Ethnographic museumThe most intensive period of his creative activity extended from the 1920s to the mid-1940s. Most of his compositions, expert articles and books in the field of ethnomusicology and ethnology date from this period.

His work was also highly valued in the text by ethnomusicologist Grozdana Marošević, wherein she recognizes the foundations of Širola's research approach in the current guidelines of the comparative musicology of the time, which was presented in professional European musicological literature and which Širola consulted – along with a large number of other sources – thus supporting the idea of the development of a correlation among comparative musicology, anthropology and ethnology (Marošević 1998).

He was an extremely prolific composer, so, among many works published from his surviving manuscripts reposited in the Croatian State Archives, also numerous unpublished compositions can be found: operas, operettas, orchestral works, compositions for piano, oratorio and compositions for children.

Širola was a member of many cultural associations; he cooperated with music academies and conservatories both in Croatia and abroad, and gave various lectures for the purpose of popularization of Croatian music. He largely contributed to popularization of folklore music and ethnomusicology through his publishing activities and a series of lectures which he gave on the Zagreb Radio station in 1937 and 1938 (Bezić 1985:5). In her article "The Echoes of Širola's Historical and Music-publishing Activities in the Press of his Time", a musicologist, music critic and pedagogist Zdenka Weber says that Širola held countless lectures both in Croatia and abroad, and that he gave lectures on Croatian, Slovenian and Serbian music on the Prague Radio Station. He wrote articles for many newspapers of his time: Novosti, Jutarnji list, Hrvatska straža, Zagreber Tagblatt, Agramer Tagblatt, Zagrebački list, Savremenik, Naša muzika, Jugoslavenska njiva, Krijes, etc. (Weber 1985: 83). He also made a significant contribution to festivals of Croatian rural culture, which is apparent in the text "Festivals of Croatian Rural Culture with a Particular Regard to their Importance for the Development of Croatian Musicology" (1940), and he was also recognized as an editor of substantial manuscript collections of folklore music gathered by other researchers, such as Franjo K. Kuhač and Vladimir (Vladoje) Bersa.

Božidar Širola worked as a curator in the Department of Folk Music until 1945, after which there is no more information available about his life and ethnomusicological work. In 1945 the post of the curator of the Department was filled by musicologist Vinko Žganec.